Nolah Evolution Mattress Review
We receives advertising fees from some of the brands listed on the website.
We receives advertising fees from some of the brands listed on the website.
Full Disclosure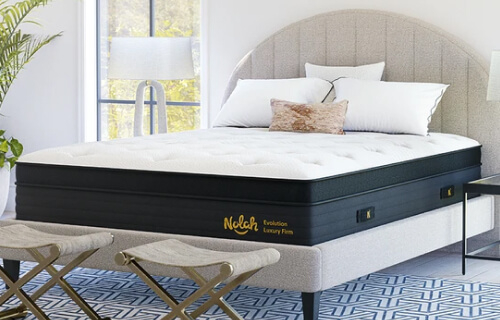 High-Tech hybrid
Very good back support
Graphite-infused foam for cooling
Pros & Cons
3 mattress firmness options
Great pressure relief
Above-average temperature regulation
Durable
Not a cheap option
Heavy mattress
Shop Now
Our Review
The Nolah 15" Evolution is one of this manufacturer's thickest and most expensive mattresses. And for reasons we'll get into in a few minutes, the Nolah Evolution has also gained traction among the most popular hybrid mattresses.
In this Nolah Evolution Hybrid Mattress Review, we'll cover everything you need to know about this bed. Who is it made for? Is the Nolah Evolution a good mattress for side, back, or stomach sleeping? What about temperature regulation- is the Nolah 15" Evolution good for hot sleepers?
Nolah Evolution Mattress Build and Quality
The Nolah Evolution is the best-selling mattress from Nolah Sleep. Nolah Sleep is an American mattress manufacturer based in Denver, Colorado. Launched in 2015, this company is among the newest players to join the highly-competitive bed-in-a-box mattress industry.
This tech-driven brand is known for using proprietary materials that make its mattresses distinct in terms of overall performance. For instance, the Nolah Evolution 15" mattress is engineered to appeal to both foam and coil mattress fans. It also boasts high-tech cooling technologies, so hot sleepers won't feel left out.
It's also worth noting that Nolah Sleep mattresses are made in the USA. All the materials, including the foam, springs and cover, are made in the US.
Read on for a deeper description of the Nolah Sleep and who it's best designed for.
Height
The Nolah Evolution is a 15" tall mattress. This height profile puts it in the category of deep or thick mattresses. Because of their thickness, mattresses in this category are known to cater to all types of sleepers, including plus-size individuals. Mattresses of this thickness also tend to make climbing in and out of bed easier. And they are relatively more durable, thanks to the additional materials. But this also makes them pricey compared to standard size mattresses.
Firmness
The Nolah Evolution mattress comes in three firmness options- plush, luxury-firm and firm. The plush-firm version is the most popular of the three firmness levels, partly because it feels like a blend of the other two.
In our opinion, the Nolah Hybrid Plush mattress scores a five on the 10-point mattress firmness scale. This makes it a good mattress for individuals weighing up to 230 lbs, particularly side sleepers who love a plush mattress with deep contouring and extra pressure relief.
The Firm model is the firmest of the three options and feels like a 7-8, depending on your weight. We'd recommend this mattress to plus-size back and stomach sleepers looking for a mattress with the most support.
As the name suggests, the Luxury-Firm mattress sits between the other two mattress firmness levels. Our team rated this version 6.5 on the firmness scale. The Nolah Evolution Luxury-Firm version is best suited to all individuals across all sleeping positions, weighing 130 lbs to 230 lbs.
Nolah Evolution Mattress Construction
Cover
The Nolah Evolution mattress is wrapped in a 100% organic cotton cover that gives it a premium appearance. As it's the case with organic cotton, this cover is soft to the touch, breathable and moisture-wicking. These properties aim to create a comfortable sleeping surface that keeps you cool and dry. This cover is not removable, so it can only be spot-cleaned.
Comfort Zone
This mattress boasts a three-layer comfort section. First is the 2" quilted Euro topper that offers the initial pressure relief you get when you get into the bed. This Euro topper has high thermal conductivity (HTC) fibers, meaning that it pulls excess heat away from you without using chemicals. Next in line is another 2" layer of AirFoamIce. This proprietary graphite-infused foam promotes pressure relief and comfort while accelerating cooling. The third layer in this section is a 2" block of Deep and Supportive High-Resilience Foam. This foam works with the top layers, offering a comforting lift and deep body support for spinal alignment.
Transition Zone
Sitting between the comfort layer and the coil system is an inch of high-density transition foam. This layer is designed to be more resilient than the layers above and is meant to ease you onto the coil system below it.
Support Zone
The primary support layer of the Nolah Evolution Hybrid mattress is a system of 8" individually-pocketed HDMax Tri-Zone coils set on an eco-friendly foam layer. This system is zoned, meaning it offers different levels of support to match your body's support requirements. The updated Nolah Evolution mattress now uses 13.75-gauge coils along the edges for improved support and durability.
Trial and Warranty Policies
Shipping
As a bed in a box, the Nolah Evolution is compressed, wrapped and packed in a shipping box. The company offers free ground shipping within the contiguous United States. The Nolah Evolution mattresses take 5-10 business days to ship to the customer after making an order.
Trial Period and Returns
Every purchase of the Nolah Evolution mattress comes with a 120-night trial period that begins the day you receive the mattress.
This four-month trial period includes a 30-night, manufacturer-recommended break-in period. That means you can only return the mattress for a full refund one month after receiving it and before the 120th night.
Uniquely, Nolah Sleep allows you to opt-out of the trial period in exchange for a slightly lower purchase price.
Warranty
Nolah Sleep backs up the mattress with a partially prorated lifetime limited warranty. This warranty covers select manufacturer defects throughout the life of the mattress, including the 120-night trial period.
During the first 15 years, Nolah Sleep will replace the mattress if it develops indentations deeper than one inch or any other defect that Nolah agrees was caused by manufacturer defects. After the 16th year, the buyer pays for repairs or a prorated cost, plus $75 for shipping to get a replacement.
Conclusion
A quick Nolah Evolution review is all you need to understand why this mattress has become a fan favorite so fast. With three firmness levels to choose from, everybody is bound to get a Nolah evolution mattress that works for their body shape, weight and sleep needs.
Back and stomach sleepers (130-230 lbs) will immediately fall in love with the Luxury Firm model. It might feel slightly firmer for side sleepers at first. But it will get softer after a week or two of breaking it in. Petite sleepers may prefer the plusher model, while heavy and plus-size sleepers are better off with the firm version.