100 Days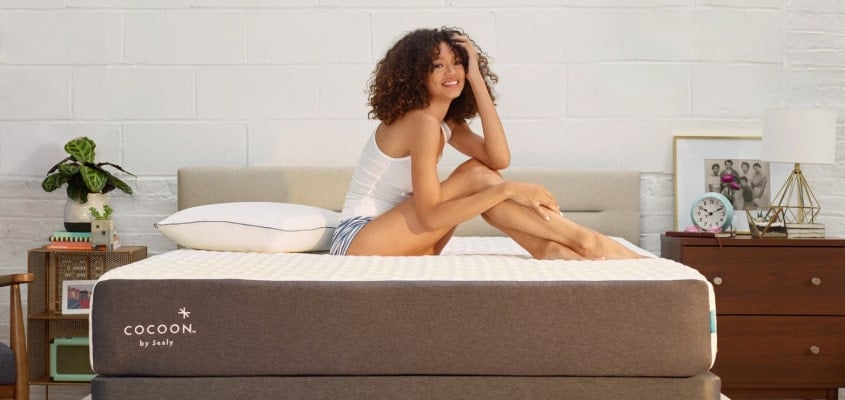 35% Off + 2 FREE Pillows & Sheets
Our Review
The Cocoon mattress has been a top choice for most people, especially memory foam lovers and hot sleepers since it debuted. All along, Sealy has been offering this mattress in 2 firmness levels: a plush bed that targeted individuals who don't carry a lot of weight and an extra-firm model marketed towards heavier individuals and stomach sleepers.
For 2023, Sealy seems to have married the two beds to develop a single firmness level that will suit most people (if not everyone). In this Cocoon Chill mattress review, we seek to answer the key questions in your head right now: is the Cocoon Chill a good mattress? How does it feel? Does it sleep cool? Is it durable?
Cocoon Chill Mattress Build and Quality
A mattress is a big purchase and a crucial component in achieving overall good health. So, it's critical that you understand what you're paying for beforehand. Sealy is a reputable manufacturer generally, and most of its offerings, including the outgoing Cocoon Chill mattresses, are known to have outstanding quality levels. This intentional quality has been replicated in the new model, and we can tell consumers are getting what they pay for.
Thickness
Like the outgoing versions, the new model of the Cocoon Chill mattress is 10 inches tall. This height places it in the medium-profile mattress category. This is a popular height range among people who want a mattress that's neither too tall nor too short.
Firmness
Taller all-foam mattresses tend to have a plusher feel while thinner beds tend to feel firmer. The Cocoon Chill mattress sits in between these 2 ranges. Precisely, this is a medium-firm option, and our team rates it 6 on the 10-point mattress firmness scale.
Generally, a medium-firm mattress will be ideal if you prefer a bed that's moderately on the firmer side, but you still appreciate a good balance of support and comfort. This firmness level tends to be particularly popular with first-time memory foam buyers who find it hard to determine the perfect feel for their needs. Additionally, it's a great choice for couples who can't agree between a medium and a firm mattress.
Cocoon Chill Construction
Premium Knit Cover
The 3 layers of this mattress are fitted in a premium knit cover made of polyester and cotton blend. This cover has a cozy appeal, and its knit design makes it breathable. But its key selling point is the Phase Changing Material (PCM) that has been incorporated in its fibers.
Just like its name suggests, a PCM is a 'magic' substance that changes from one state to another (solid-liquid-vapor) in response to temperature changes in the surrounding. When infused in mattress construction materials, PCMs promise to control the temperature of your sleeping surface to keep you cool and comfortable all night long. It will also come in handy when it's cold.
Most mattress brands today are in a race to offer memory foam beds that sleep cool. Because PCM cooling technology seems to work, we expect more companies to continue adopting it.
Comfort Layer
The topmost layer of the Cocoon Chill mattress is 2 inches thick. This layer is cut from a proprietary foam that Sealy dubs Perfect Fit. It's almost similar in makeup to the traditional memory foam. However, it has been engineered to reduce most of the shortcomings that make classic memory foam less comfortable. This layer is responsible for cradling the body and evenly distributing your weight on the sleeping surface for pressure relief. Thanks to its visco-elastic nature, it will also respond to your sleep position movement to ensure ongoing comfort all night long.
Transition Layer
For the transition layer, Sealy goes for a 2-inch polyurethane foam that they call Responsive Comfort foam. This layer is there to provide you with a smooth and less noticeable transition from the soft comfort layer to the dense base support below it. This layer also creates additional deep compression support for proper spinal alignment all through the night.
Base Support
Lastly, we have a 6-inch layer of high-density poly foam that makes this mattress's support core. The base support's primary role is to reinforce the top layers to reduce indentations, sagging, and general wear and tear. Its high-density feel also plays a critical role in temperature neutrality, durability, and noise reduction.
Delivery, Trial, and Warranty Policies
Delivery
As a bed-in-a-box style mattress, the new Cocoon Chill is compressed and shrink-wrapped at the factory and then packaged in a shipping box. According to Sealy's delivery policy, the mattress qualifies for free shipping via UPS Ground. Sealy says that the precise shipping time may vary, but your mattress should arrive within 5-7 business days after the day of purchase.
Trial and Warranty
As it's the case with buying memory foam mattresses online today, the Cocoon Chill will come with a 100-day sleep trial. There's no mandatory break-in period required, but Sealy recommends trying the mattress for at least 30 days before making your decision.
After the trial period, your mattress is backed by a 10-year non-prorated warranty. During this period, Sealy will replace the mattress or repair any defects free of charge. You'll only pay for the shipping fees.
What Other Reviewers Say
Most of the reputable reviewers agree that the updated Cocoon Chill mattress continues with the legacy of its predecessors. This mattress has scored favorable ratings across the key components that make a great bed: motion isolation, pressure relief, and noise reduction. Notably, individual reviewers on Amazon and Cocoonbysealy.com affirm that the PCM cooling cover actually works by cooling the sleeping surface.
Conclusion
The Cocoon Chill mattress is great overall. This is a comfortable and supportive mattress that we expect to be a good match for most side, stomach, and back sleepers. Although its price tag is placed slightly higher than most of its competitors, there's no doubt that you're getting excellent value in terms of performance. On this note, Sealy is known for throwing great discounts and free items, such as pillows and sheets with most of its mattresses almost every time. Generally, if you're looking for a value memory foam mattress that sleeps cool, the Cocoon Chill might be your best candidate.