Dreamcloud Mattress Review
We receives advertising fees from some of the brands listed on the website.
We receives advertising fees from some of the brands listed on the website.
Full Disclosure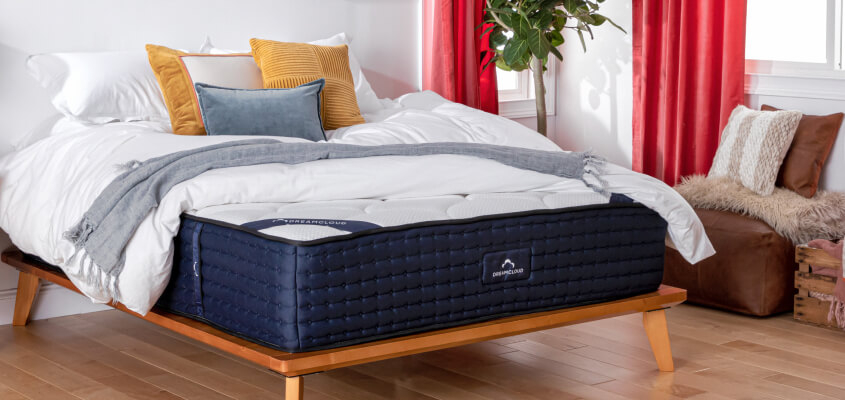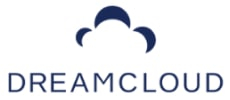 Premium materials for a decent price
Balances comfort and support
Forever warranty
Pros & Cons
Great for all sleeping styles
Balances comfort and support
Height may be an issue for some
Shop Now
Our Review
The Dreamcloud mattress is a reasonably priced hybrid that hits the jackpot with its nice balance of comfort, pressure relief, and support. This is a model you may want to consider, if you want a high-end memory foam hybrid at a great value.
Read on this Dreamcloud mattress review as we discuss everything that you need to know about it. Specifically, we'll shed light on its construction and trial, return, and warranty policies. Our experts will also touch on who we think it might be best for.
Dreamcloud Mattress Build and Quality
Thickness
The Dreamcloud is quite tall compared to most average size mattresses. Standing 14" high, we reckon it will make a good choice if you appreciate high-profile beds due to their refined appearance. This extra thickness will also be a bonus feature for people who can't bail out of a short bed without struggling.
Firmness
The Dreamcloud sits at 6.5 on the firmness scale. It splits the difference between plush and firm to create a pretty balanced sleep surface in terms of comfort and support. In conjunction with the memory foam comfort layer, the Euro pillow top creates a plush feel with a good level of contour. Importantly, the Euro top, coupled with the pocketed springs, counters the resistance from memory foam, making it much easier to switch positions while sleeping.
Dreamcloud Construction
Cashmere cover
The Dreamcloud mattress kicks off with a super soft and cozy cover made from cashmere blend. Cashmere is a type of wool known for its fine and breathable fibers as well as premium price. This fabric is reserved for high-end products, and it contributes a significant part in making the Dreamcloud unique.
Comfort section
Another easily notable feature of the Dreamcloud hybrid bed is its cloud-like molds that make its Euro pillow top. This Euro top is quilted with gel-infused memory foam, and it combines with yet another layer of gel memory foam to create the comfort section. The intention behind using memory foam is to give you a mattress that cradles your curves to relieve pressure- and this aspect comes out really well with this mattress.
Importantly, you'll realize that unlike traditional all-foam memory foam mattresses, the Dreamcloud does not suck you in to make you feel trapped. The credit here goes to the hand-tufted pillow top that keeps you 'floating' on the mattress. If, like most people, you don't like the feeling of being trapped in the bed, Dreamcloud seems to have successfully mitigated that issue with this mattress.
Transition layer
Next in line is the poly foam transition layer. This layer is not meant to be felt but rather to complement the comfort layer by making it more responsive. It increases the amount of foam on top of the spring support system, which essentially balances bounce with comfort besides minimizing motion transfer. This foam also creates an extra layer of protection from the springs that would otherwise be poking you.
Support system
The bulk of the Dreamcloud mattress is in the support system. This section consists of individually-pocketed coils that offer a ton of positive response by reacting independently. Uniquely, this section is zoned: it provides more support to the heavier parts of your body, such as hips and shoulders, while allowing more give to your lighter parts. The result is that you feel weightless and supported at the same time. This targeted support is even more comforting to individuals who carry more weight.
Delivery, Trial, and Warranty Policies
365-night trial
If you choose to purchase this mattress, you'll get to try it out for a whole year. The manufacturer recommends allowing your body 30 days to try and adjust to the new bed. If you don't like it after this period, you can initiate the return process by contacting Dreamcloud via email ([email protected]) or telephone (1-855-976-4860). The support team will process your refund and work with you to donate the mattress to charity.
Lifetime Warranty
Dreamcloud's lifetime coverage is one of the friendliest in the mattress industry. It covers defects, such as excessive body impressions deeper than 1.5" and physical flaws that cause degradation on the foam. Dreamcloud promises to replace the mattress with a new one within the first 10 years of ownership. After this, the manufacturer may either replace or repair and recover the bed.
What other reviewers say
Dreamcloud has received great reviews and feedback from a majority of the reputable mattress comparison sites. Most experts agree that Dreamcloud nailed it, especially on balancing comfort with support. The choice of materials, including cashmere cover, gel-infused memory foam, and a zoned individual-pocketed coil system, also contributes to this mattress's popularity. Reviewers also highlight that the luxurious appeal of this mattress, coupled with its interesting policies, represents great value for the money.
Conclusion
The Dreamcloud is a premium hybrid mattress whose high-end quality is easily notable right from the hand-tufted quilted cover to the pocketed spring system. In terms of performance, we think this mattress will be an excellent choice for petite sleepers and heavy folks. We also expect it to accommodate all sleeping positions thanks to its super soft Euro pillow top.
While this mattress isn't budget tier, we think it's reasonably priced thanks to Resident's direct-to-consumer approach. Worth pointing out, this brand often offers great discounts and may also bundle up the mattress with free sheets, mattress protectors, and pillows, giving you an overall solid value. These deals vary from time to time, so click the link below to see current offers.