risk free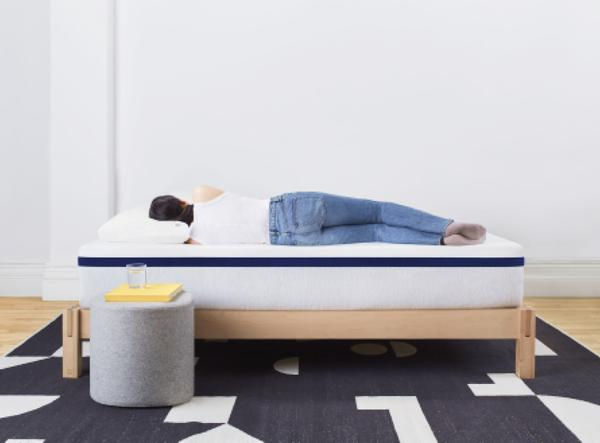 Cyber Monday Sale! 25% OFF + 2 FREE Pillows
Our Review
You've probably heard or read that Helix is among the best hybrid mattress brands to buy today. Perhaps what you don't know yet is that Helix is an umbrella term for a ton of different mattresses spanning the entire firmness and sleeping style spectrums.
It may not be easy to hone in on a particular type of Helix mattress because they come in 12 different models. But Helix has a helpful sleep quiz that helps you narrow down to the most suitable bed based on your weight, sleeping style, and personal preferences.
This Helix mattress review will focus on the Midnight as it's the company's most popular model. Hopefully, this guide will answer all your questions regarding the Helix Midnight so that you can make a well-informed decision.
Helix Mattress Build and Quality
Helix Sleep is an American mattress manufacturer headquartered in New York City, NY. This company started business in 2015. Although it still falls among the newest entrants in the memory foam craze, we actually think they are revolutionizing the sleep industry.
Helix Sleep is all about customizing the mattress shopping experience. This company clearly understands and appreciates the fact that mattresses aren't one-size-fits-all. Thanks to its sleep quiz, everybody can make their bed regardless of their weight, body shape, sleeping position, and personal preference.
Another interesting bit about the Helix mattress is that you don't have to force yourself into a firmness level that best suits your partner. This manufacturer offers you an option to have the bed split into two firmness feels. Because Helix mattresses are made to order, it's crucial that you submit truthful information about your sleep preferences to get a mattress that's tailored to your needs.
Regarding materials, Helix is a hybrid mattress combining memory foam and individually pocketed micro coils. As such, all its beds are custom-built by hand in their facilities spread across the country. Helix Sleep says that they are unapologetically obsessed with quality.
Helix Sleep takes pride in the use of OEKO-TEX and CertiPur-US certified materials. These two are vital marks of the human-ecological safety of textiles. They aim at boosting your confidence in the knowledge that the mattress does not contain toxic or allergic substances, including ozone depleters, flame retardants, and heavy metals.
In our experience with its products, particularly the Midnight mattress, we think Helix Sleep is a nice brand, and its mattresses are worth checking out.

Cyber Monday Sale! 25% OFF + 2 FREE Pillows
Check Price
Thickness and Firmness
Height
Like other standard versions of Helix mattresses, the Helix Midnight is a 12-inch tall, four-layer mattress. This is the typical height for most mattresses in the mid-range price category.
We expect it to be a suitable thickness for most mattress shoppers looking for a mattress that balances ease of getting in and out of bed with comfort and support. A mattress of this height will last considerably longer for most people.
Would you prefer a slightly taller mattress? If so, you're in luck because Helix Sleep has a luxurious version of most of its standard versions- the Luxe. The Helix Midnight Luxe is two inches thicker at 14 inches, and it's engineered for optimum pressure relief.
Firmness
Helix Sleep's most popular firmness choice, the Midnight, is a medium-firm mattress. The manufacturer classifies it as between 5 and 6 on the firmness scale.
Compared to other hybrid mattresses smack in the middle of the firmness spectrum, we think the Midnight is 6.5- slightly firmer than average but not too firm. We should remind you that firmness is not objective. The mattress may feel slightly firmer or softer depending on personal factors, such as weight and body shape.
Helix Midnight Mattress Construction
Cover
Kicking things off from the top, the Midnight starts with Helix Sleep's Soft Touch Design cover. This is a specialized smooth-to-the-touch cover that can be unzipped for laundering. The mattress also has an interior cover that keeps the layers intact when the top cover has been removed.
Interestingly, hot sleepers have the option of going with the Helix Sleep's Ultra Cool cover. This cover is made with Phase Changing Material (PCM) and is specifically designed to combat heat retention in memory foam by offering an effective way of diffusing heat.
Comfort Zone
The first layer of the Midnight is a slab of this manufacturer's Memory Plus Foam. Helix representatives say that Memory Plus Foam is a unique polyurethane foam that promises the curve-conforming pressure relief of memory foam but with a less sticky and huggy feel.
Notably, this foam (according to Helix Sleep) features 'microscopic air capsules' to boost breathability and resilience.
The comfort zone has an additional layer of Helix Dynamic Foam. This is a proprietary high-density foam with a secret blend of ingredients that mimic the responsiveness of latex.
Support Zone
Next in the lineup is a core consisting of 789 individually pocketed coils. These coils complement the pressure relief attribute of the foam layers by adding support. But they also add a vital aspect that only traditional mattresses provide: bounce and buoyancy. Buoyancy makes changing positions easy by preventing the sleeper from sinking into the layers and becoming immobile. Bounce adds responsiveness and makes this mattress sex-friendly.
The coil core sits on a High-Grade Polyfoam. Thanks to its high density, this foam should hold up the mattress for years.
Trial and Warranty Policy
Like most mattress-in-a-box brands, Helix Sleeps offers you a 100-night trial period. This window starts when you order and includes things like manufacturing, shipping, and expansion. So, you have around 90 days to try the mattress and decide.
To allow adequate break-in, Helix requires you to try the mattress for at least 30 days before initiating the return process.
If it's not the perfect mattress for your sleep, you can return it for free for a full refund. On the other hand, if you decide it's for keeps, you get a 10-year limited warranty.
Conclusion
No mattress is a perfect pick for everybody. But we appreciate the extent that Helix Sleep has gone to customize sleep as closely as possible. The Midnight is a trendy mattress from this manufacturer.
This is a recommendable mattress for memory foam lovers looking for a slightly firmer mattress. Commonly marketed towards side sleepers and those who toss a lot at night, the Helix Midnight mattress also suits people looking for a supportive mattress with great pressure relief and temperature regulation.

Cyber Monday Sale! 25% OFF + 2 FREE Pillows
Check Price