Layla Mattress Review
We receives advertising fees from some of the brands listed on the website.
We receives advertising fees from some of the brands listed on the website.
Full Disclosure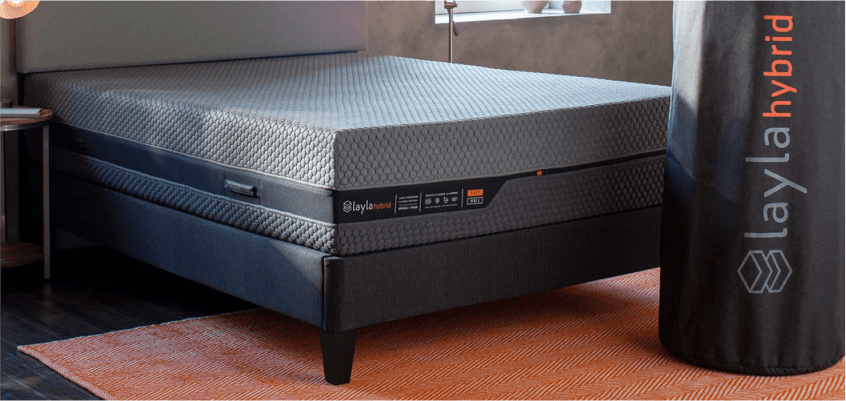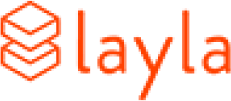 Choice of 2 firmness levels
Copper infusion technology
Lifetime warranty
Pros & Cons
Choice of 2 firmness levels
Copper infusion technology
Shop Now
Our Review
In this Layla mattress review, we're going to break down the main attributes that separate it from the pack. As you probably know by now, the Layla is flippable and offers 2 usable sides with varying firmness feels. Throughout this post, we'll give you our thought on the operations of each of these sides. We're also going to walk you through its construction details, so you know what you're paying for.
Layla Mattress Build and Quality
The Layla is classified and marketed as a memory foam mattress. But there is a massive improvement between this material and the typical viscoelastic material we're used to. What makes this a different style of memory foam is that it's infused with flecks of copper.
As the second most conductive material in the world, copper is the latest cooling technology in mattresses. This material is mainly used in memory foam nowadays to trap and dissipate excess body heat, providing a cool and comfortable sleep.
Another thing you should know is the copper-infusion in this mattress makes it puffy and airy. We mean that although it has the pressure-relief attributes of memory foam, this foam springs back much more readily. Actually, we feel that it behaves like latex in terms of responsiveness. So, unlike typical memory foam beds that tend to inhibit movement, the Layla allows free movement on the sleeping surface, especially on the firmer side.
Thickness and Firmness
The Layla memory foam mattress is 10 inches tall. Of this thickness, you get 4 inches of high-density copper-infused memory foam. This is almost twice the amount you get in most of the memory foam mattresses we've reviewed before. The extra amount of memory foam here epitomizes the value for money that you get with this bed.
As mentioned before, the Layla mattress is dual-sided and offers 2 choices of firmness levels: soft and firm. The soft side is somewhere between 2 and 4 on the firmness scale and packs tons of pressure relief. The firm side isn't rock-solid. Instead, we feel this side falls between a medium and medium firm.
In terms of sleeping positions, we think the Layla will accommodate all styles. Precisely, the soft side might be the best for back, side, stomach, and combination sleepers. If you're a strict stomach or back sleeper, we think the firmer side will emerge the best for you.
Layla Mattress Construction
Cover
The Layla cover features a polyester blend and has a Thermo-Gel infusion. Thermo-gel is a heat-absorbing concentrate that absorbs body heat to create a cool sleeping area. This cover has a zip, and it's safe to dry clean. Lays says that throwing a breathable and waterproof mattress protector on top of this cover will make caring for it much more effortless.
Comfort Layer
The comfort layer with the soft side up is a 3" copper-infused memory foam layer. One drawback of traditional memory foam is trapping body heat. Adding copper to this layer provides thermal conductivity properties, whisking your body heat to allow for a cool, comfortable sleeping experience.
Transition Layer
After the memory foam comfort zone comes a 2-inch 1.8 lb polyurethane foam transition layer. This foam adds some support on the soft side of the Layla. An essential aspect of this transition layer is its convoluted egg-carton design, which promotes airflow within the mattress.
Base Support
The base support is 4.5" thick. Like most modern mattresses, this layer is cut from polyfoam. Thanks to its 2.0 lb density, this layer will provide support on either side.
Firm Comfort Layer
When configured with the soft side up, the bottommost layer is 1 inch thick. This layer is engineered from the same copper-infused memory foam that is used for the comfort section. The reason behind its firm feeling is that the sleeper hits the firm base support almost immediately.
Trial and Warranty Policies
120-day Trial Period
Layla allows you to test this mattress for 4 months (120 nights). If neither sides turn out to be what you hoped for or if you change your mind within this trial period, you're free to return the mattress for a full refund. Impressively, Layla does not charge return fees or restocking fees.
Lifetime Warranty
The Layla mattress lifetime warranty will cover indentations deeper than 1", cracks or visible splits on the foam, and loss of shape and height.
What Other Reviewers Say About the Layla Mattress
According to most Layla mattress reviews online, the standout feature of this mattress is its dual-firmness design. The argument is that this design will resonate with memory foam buyers who aren't sure which firmness level is best. Testimonials about this mattress's temperature neutrality suggest that the copper technology, thermo-gel infusion, and egg-crate design work in delivering a cooler bed. To sum up, most review sites characterize both sides of this mattress as trustworthy when it comes to motion isolation.
Conclusion
The Layla is an interesting mattress at an attractive price point. By eliminating the middleman and directly dealing with the end-user, Layla can offer this mattress at a much more reasonable price tag than other bed-in-a-box competitors. Secondly, the dual-side design of this mattress technically makes it a 2-in-1 bed. It offers an excellent choice for first-time memory foam users who aren't sure what firmness level works for them.